New GM: 'the gold standard of technical recruitment'
Embedded Expertise, Published: October 18, 2022 - Updated: October 18, 2022
Embedded Expertise is proud to announce it has appointed a new Executive General Manager, Donford Bird, who is looking forward to growing the industrial engineering and technical recruitment service further.
Donford brings more than 20 years of technical and engineering recruitment experience and a passion for good old fashioned, outstanding customer service. A focus which aligns well with Embedded's ethos.
"If there was a gold standard to how recruitment should look, based on the candidate and client experience, it would be how Embedded operates," Donford says. "There are three things that make Embedded stand out to me; deep industry knowledge, industry credibility, and customer service."
Embedded Expertise is a SAGE Group company, and thus closely tied to industrial engineering and technology project delivery. Donford says this model of recruitment is a game changer.
"This means we can draw on connections and knowledge directly from project delivery teams, and the clients that they serve, through transparency and collaboration," Donford says.
"We can engage with clients from a level of deep project experience and knowledge."
One example is how Embedded Expertise works closely with sister company SAGE Automation, Australia's leading industrial control systems services provider.
With more than 25 years of project and service delivery experience across the utilities, transport, manufacturing, resources and defence industries, the company has established relationships with experts from c-suite to control system engineers, project managers and IT-OT specialists.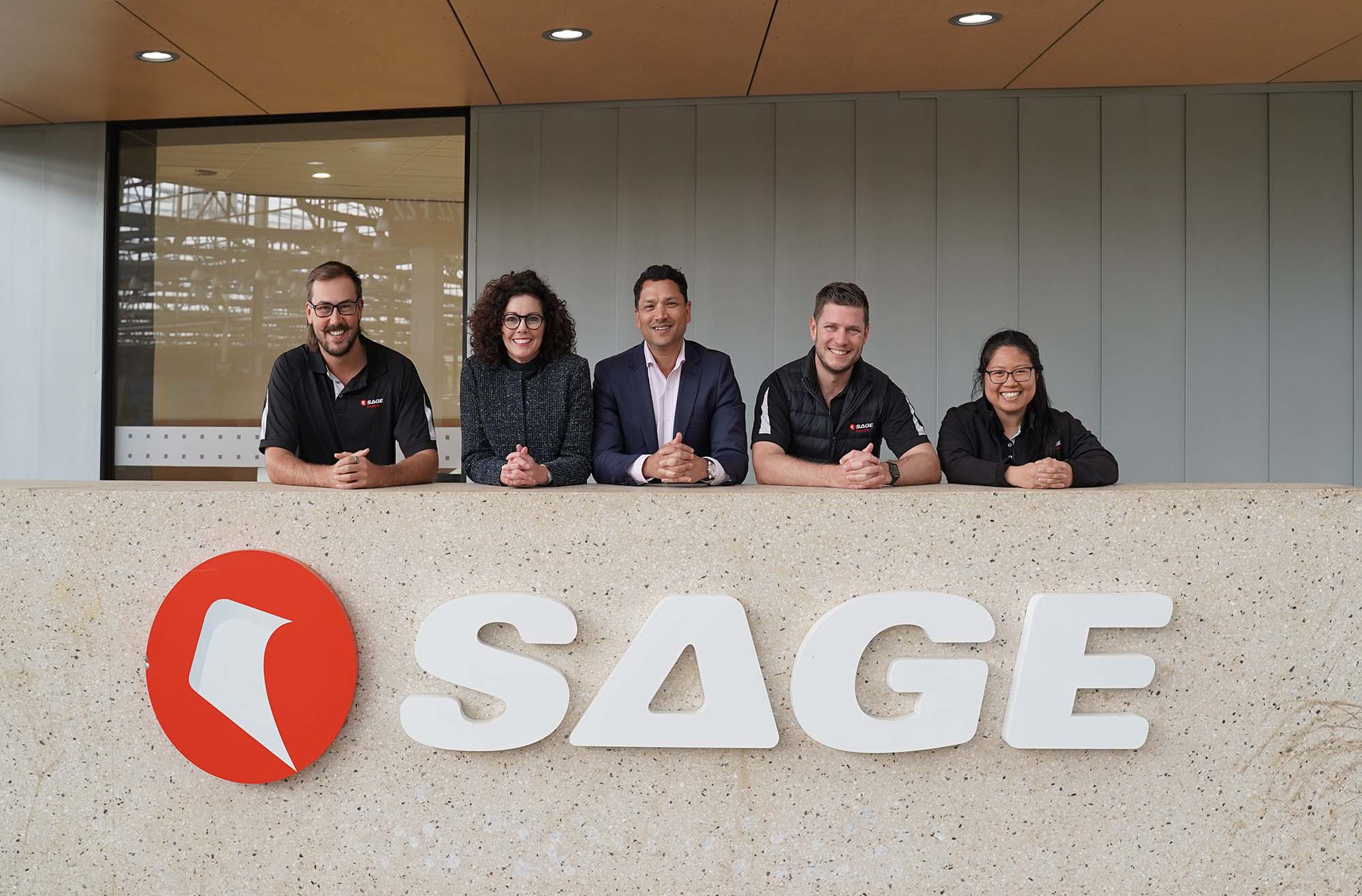 Embedded Expertise Executive General Manager Donford Bird (third from left) and Senior Talent Manager Georgia Reeks (second from left) with fellow SAGE Group employees at the SAGE Group National Headquarters in Tonsley, SA.
"This benefits our Talent Managers in multiple ways; they're constantly building their industry knowledge through internal lunch and learns, and drawing on this network to source experts and proactively anticipate client's needs.
"In our industry, urgency is key; we can act quickly and get the most talented experts for the role, or projects for our experts," Donford explains.
SAGE Group Managing Director Adrian Fahey says the Embedded offering solves a long-held challenge for the industrial sectors.
"Technical resourcing for projects is often a medium-term engagement, which can become challenging," Adrian says.
"There is strong demand for niche technical skills and expertise at a senior level, and often clients will want the flexibility of hiring contracted experts for the project duration versus permanent staff. I'm incredibly proud of our solution and how it answers to this challenge."
Donford is passionate about continuing Embedded's culture of outstanding service through core offerings like the Wellness Program, and looks to build the team of Talent Managers nationally.
Donford has worked in technical recruitment across engineering, construction, and property for small and large companies including growing his own business. He has worked across all facets of the recruitment industry from customer facing, operational and senior management roles. Having managed a number of boutiques and grown large recruitment businesses, he is passionate about building performance-driven teams and collaborative cultures.
We welcome Donford to the Embedded team!
Looking to resource a project? Find out how we work with clients to find the best technical talent.